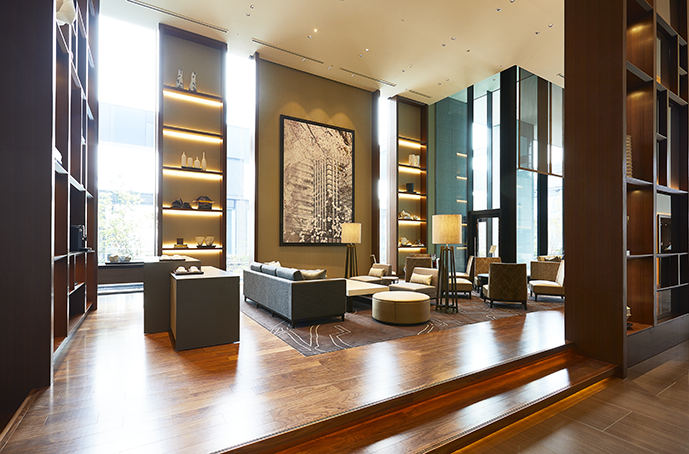 Ode to Art is a key industry player when it comes to providing art consultancy services for corporate and hospitality projects. With 15 years of experience, the gallery is able to develop, design, and procure artworks according to a project's needs.

Ascott Marunouchi Tokyo is a serviced apartment located in central Tokyo, a stone throw away from Ginza and other cultural hotspots. Built for both business travellers and leisure travellers, this serviced apartment aims to create an urban oasis, a place where one can get away from the hustle and bustle of the city life to rejuvenate.
Ode to Art who was engaged as the art consultant began building on the concept of Zen which is prominent and widely practiced in Japan. We also focused on the four seasons which - although is common in many countries, transform magnificently every quarter. Conscious of Japan's integral concept of aesthetics, the curated works in the public and room areas seek to focus on mainly 1. Wabi-sabi, 2. Miyabi and 3. Shibui.
To condense these 3 concepts for the benefit of the reader,
1. Wabi-sabi refers to a conscious and mindful approach to daily life. It involves the practice of finding beauty and meaning in the mundane and simple which takes cultivation.
2. Miyabi which is less well known as wabi-sabi is equally as important. Known as "courtly elegance", it refers to the appreciation of things with the possession of knowledge, sophistication and understanding beyond the superficial.
3. Shibui refers to a beauty of simple, subtle, and unobtrusive beauty. Shibui objects appear to be simple but in fact possess intricate and subtle details upon closer inspection.
With these in mind, the gallery began to merge the 3 concepts with the beauty of the everchanging four seasons to come up with a curated team of artists and their works who will complement the interior seamlessly. With a mix of Japanese, Korean and international artists - the space is transformed into a sublime contemporary space which, again, highlights the subtlety and simplicity of Japanese aesthetics.